What is Beverage Chase
®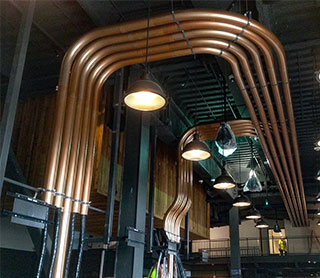 A beverage CHASE system is the network of conduits installed throughout a venue to enclose, protect and allow ease of installation and service for the beverage system. Beverage CHASE systems are installed in the available mechanical spaces between the source pumps and remote locations. Systems typically are installed underground (below slab) or overhead (ceilings and walls). They protect the distribution lines from compromises that affect quality of product, health, safety and ease of service. Compromises range from mechanical (cuts, abrasions, pulls, crushing) to contamination (pest infestation, chemical exposure), and include safety (hazardous fumes, trip/fall).
Beverage dispensing systems are utilized in many hospitality/entertainment venues from small chain restaurants and specialty restaurants to multilevel stadiums, casinos and theme parks. They are a network of lines (tubing) connecting beverage dispensing equipment with a central distribution location. This network or system allows for accurate control, monitoring and ease of maintenance for the operators of these venues. Additionally, the ability to minimize space requirements at the service locations is another benefit for owners.
The Value of our System
When specified, designed and installed, a beverage CHASE system will save money and eliminate future problems. Often beverage conduit systems are an afterthought, opening the door for ineffective and substandard construction products. PVC and cast iron systems break down over time, allowing leaks, which contaminate beverage products. It is not a matter of "if" a system that is haphazardly put together will leak, it is "when." The end result is very costly to the owner/operator.
Beverage CHASE system design is key to a successful beverage dispensing system that meets the needs of the people using it. Remote beverage and CO2 dispensing are easy to overlook in building projects; however, they are a major component of every food service venue, from fast food to full-service restaurants, stadiums, arenas, casinos and airport restaurants. These systems must co-exist with all other Mechanical, Electrical and Plumbing (MEP) components of the building. Colombo CHASE products are specifically designed to be easy to estimate, easy to order and easy to install.
The Colombo CHASE
®

Difference

Colombo Beverage Chase Systems offer patented leak-proof CHASE systems for overhead and underground applications. A Colombo Beverage Chase System allows beverage lines to be installed quickly in an organized, controlled and cost-effective process. Precisely locating CHASE conduit and junction/pull boxes can further reduce the time it takes to complete a beverage system. Servicing the beverage system when venue changes are required is another benefit of an organized CHASE conduit system.
How Can Colombo Help You
Colombo Beverage Chase Systems is available to support you in identifying and specifying the proper CHASE conduit that will:
Integrate with other MEP components
Comply with fire, health and building inspectors' local safety regulations
Guard against contamination of the beverages being dispensed
Protect the beverage system being installed
Hide unsightly beverage line bundles
Eliminate costly repairs due to conduit system breaks
Ensure easy and straightforward maintenance and repair of the beverage system
Save time and money